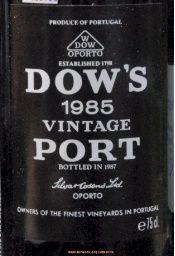 Dow's Vintage Port 1985
A fine, classic Dow with a dark ruby-purple color and an aromatic nose of cloves, raisin, blackberry, dark chocolate and a touch of fig. Refined and inviting, the palate is full bodied, medium sweet and fleshy with more clove, red-berried fruit, fennel, and a touch of spice and dates towards the chewy finish. Nearing full maturity, the '85 Dow shows moderate bricking and softening tannins to go along with developed aromas of cedar, almonds and cinnamon. This is an extraordinary house that seems to have been particularly successful with its vintage port since 1977.
Dow's 1985 Vintage Port pairs wonderfully with strong cheeses like creamy Blue Stilton or Aged Cheddar but can also be enjoyed on its own.
Stand the bottle upright 20-30 minutes before you intend to decant. Pull the cork slowly and steadily. Clean the neck of the bottle. Hold the bottle horizontally, and begin to pour the wine steadily into a clean and rinsed decanter. Once you have started pouring do not stop until you see the very first traces of sediment begin to appear out of the bottle. You may prefer to use a decanting funnel with filter.